The Quaking Aspen tree has totem medicine or lessons and gifts that it can give us.  This medicine can come to you on a daily or regular basis or it can also be a part of your birth totems in the Native American tradition.  Quaking Aspens get their name from the leaves that flutter in a breeze and can be found in the colder climates of North America.
If the Aspen is a part of your birth totems, you were born under the Rest and Cleansing Moon which fall between January 20th and February 18.
Physical medicine comes from the leaves, bark and buds of this lovely tree. This member of the Tall People gives us these to be used as a tonic or a tea to aide with liver and digestive problems.  Other uses of the Quaking Aspen are as a relaxant, for faintness, for hay fever, for internal organs and as an astringent. If used daily it can help with skin conditions such as eczema, ulcers and burns.
Powder scraped from the bark of a Quaking Aspen is sometimes used as a deodorant. It has also been said that this powder can be used to help with cataracts.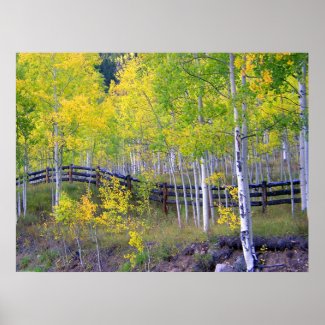 Fence with Aspens Dry Brush
by sedanistudio at Zazzle.
Teas and tonics can help with respiratory problems such as congestion, hay fever, asthma and bronchitis.  Quaking Aspen teas and tonics can also help in reducing toxicity in our bodies and congestion of the digestive system. Native Americans also used teas from the Quaking Aspen as a substitute for quinine.
As a spiritual totem the bell like song of the Quaking Aspen increases your sense of play and belief in magic much like the Otter who shares in the birth totem medicine under the Rest and Cleansing Moon.
In the Native American view, the Tall People (trees) give us many gifts and lessons to help us in our daily lives. The Quaking Aspen is just one of many.
~ Mitakuye Oyasin ~ We are all related