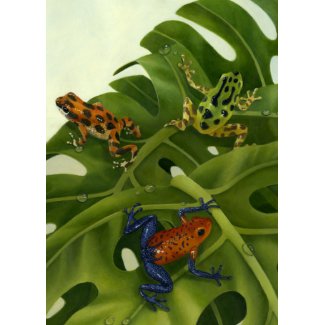 Frog may not be the prettiest creature on the planet but as a totem brother frog has a handsome message. Frog sings the songs that bring rain and makes the dirt of earth more bearable.  Frog medicine is related to water energy. We are taught by Frog to honor our tears because they cleanse our souls.  All of the water rites belong to Frog.
The body is cleansed and prepared for sacred ceremony by water.  We understand this element best while in the womb. Frog, like us humans, is a pollywog in the fetal waters and only learns to hop after it experiences the world of fluidity.
As Frog transforms into adulthood he prepares for the power to call the waters of the skies, rain.  Because Frog knows the power of water he can sing the song that brings the rains to Earth. Frog calls on the Thunder Beings to cleanse and replenish the Earth with water when our ponds become dry.  We are asked to be like Brother Frog and to know when it is time to refresh, purify, and refill the coffers of our souls.
Look at yourself today. Are you feeling tired, overloaded, harried, frustrated, guilty, nervous, empty, or weakened? If so, Frog is calling you to perform the cleansing that you need.
Take a break and allow your soul to bathe in the waters of Frog medicine.  You can do this by taking a long relaxing bath, disconnecting your phone, or just pausing to take deep cleansing breaths.  The main point is to find a way to rid yourself of the distractions and to replace the muddiness in your life with clear and clean energy.  This will help to replenish your dry spirit, body and mind.
Brother Frog speaks to us of new life and harmony through his rain song. His song calls to the Thunder Beings (thunder, lightning, and rain). His ribbet is the heartbeat that reaches harmony with Father Sky and asks for the needed replenishment.  So call to Brother Frog to find peace in the joy of taking time for yourself. This gift to yourself cleanses you of any person, place or thing that does not contribute to your newly found state of serenity.
~ Mitakuye Oyasin ~ We are all related