If you sense the fluttering of a creature teacher around your inner self, you might like to understand the Butterfly totem meaning. It is quite possible this animal spirit has come to share some medicine with you.
Sister Butterfly reminds us of our ability to know our mind and the ability to also change our mind from the art of transformation. We humans mimic the butterfly in a way. We are always at some sort of stage of activity which can be associated with the stages of transformation that Sister Butterfly goes through in her life cycle.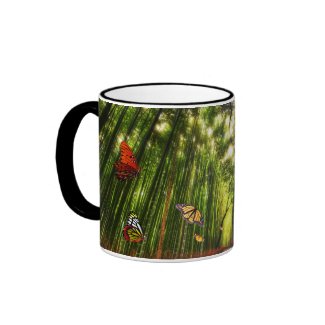 Bamboo & Butterfly Art 2 Mug
by Ronspassionfordesign at Zazzle
Whether it is a personal stage of life or related to our work life the stages can be broken down into:
Egg Stage – the beginning of all things
Larva Stage – we are bringing the idea into the physical world
Cocoon Stage – developing the idea, plan, or change
Birth Stage – transforms into reality
When we understand which stage we are in, then Butterfly Totem can show us what we need to do to get to the next stage. Perhaps you have been feeling less than energetic lately and you have asked in your prayers to be healed from this feeling of exhaustion. If the Butterfly Totem is working with you, pay attention to the colors you are drawn to at the moment. Do you feel perkier when wearing yellow? Should you be eating more yellow vegetables and fruits? The colors have been inspired by the medicine Butterfly is bringing to you.
The main lesson when Butterfly comes to us as a totem is that our life is about to go through a transformation of some kind. Sister Butterfly can help you through it.
~Mitakuye Oyasin~ We are all related