If the bobcat totem has arrived in your life it has come to teach you that there is true power and strength in silence. There will be people who will immediately understand that statement because bobcat has touched their inner being at some point in their lives. There will also be people who will not "get it" at all. It is perfectly OK if you don't understand about the silence, all that means is that bobcat is not working with you. It may not be a lesson you are ready to learn just yet.
The messages that we receive in silence has been something that I have understood all of my life, even as a child. I would literally seek out quiet places to be. Many years ago, I had a conversation with my ex-husband. He was deceiving me at the time and my "whiskers" sensed the deception. I was sitting at our kitchen table, contemplating my next move in this situation when he walked in on me. He asked me what I was doing and I responded, "Just listening to the silence." He looked at me with such a look of contempt and gave a dismissive gesture with his hands. As if to say, you can't HEAR silence!
What he didn't realize that through bobcat, my eyes could see what he was trying to hide. My whiskers were picking up images of what he was doing and my ears could hear what was not being said. Bobcat had shown me his secret!

Close-Up of a bobcat
from Allposters.com
In that situation and in many others when the bobcat totem was walking with me on my journey, I learned to see the hidden agendas of those around me and to hear what was not being spoken. Not everything was what it appeared to be. I learned to trust my own senses; that if it didn't "feel" right it probably wasn't. I learned to trust that instinct even when there was not a logical explanation for the feeling.
Bobcat comes to me from time to time when I am in situations where there are many hidden secrets. He may come to you, too. Just learn to trust that your instincts are trustworthy. He is telling you to stay silent and observe.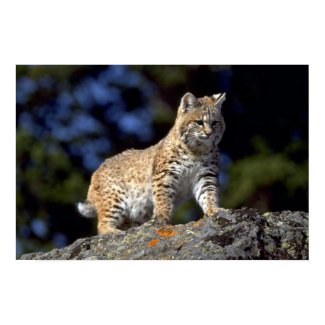 Bobcat Poster
by lolanimals on Zazzle
If you feel that bobcat has entered your life to be a spirit guide ask yourself:
Am I being too solitary? (Bobcats are a solitary animal)
Are there new learning opportunities I should be looking at
Am I dismissing my inner senses too easily
Am I allowing outsiders to sway me too much
Bobcat will come to you when it sees that you need to listen to that silence and the secrets that are hidden there.