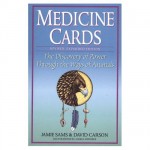 Medicine Cards: The Discovery of Power Through the Ways of Animals
Discover the tool that millions of people worldwide are using for guidance, inspiration, and help in finding answers to life's questions. now, revised and expanded to include eight additional cards, this unique and powerful divination system draws upon ancient wisdom and tradition to teach the healing medicine of animals. Medicine Cards and found its way into the hearts and hands of many, guiding the way to healing the body, emotions, mind, and spirit, and providing insight into and understand of one's unique purpose in life.
Legend of the Rainbow Warriors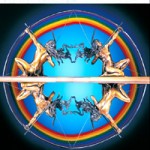 As drawn from dozens of historical accounts, the Legend of the Rainbow Warriors relates that "when the Earth becomes desperately sick, people of all colors and faiths will unite, and rise to face the overwhelming challenges with insight, honesty, caring, sharing, and respect."
Veteran writer Steven McFadden weaves the myths and the headlines together seamlessly in a rich work of literary journalism that is adroitly crafted, eye-opening, and soul-inspiring.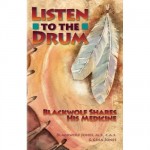 Listen to the Drum: Blackwolf Shares His Medicine
Abundant in Anishinaabe  (Ojibwa) remedies for psychological healing and personal growth,  Listen to the Drum invites us to learn to listen at our deepest level.  We  learn about our special purpose in life, how to walk in balance on the Red Road, and how to connect to the River of Life.  A powerfully inspiring and refreshing invitation to learn from Native American traditions from Blackwolf, a respected Ojibwa elder.
National Geographic: America Life Before Columbus
Instead of reading, I recommend this wonderful DVD sold at the History Channel that dispels traditional history lessons with regards to the life of the Native Americans before Columbus arrived to the continent. For generations we were taught that the First Peoples were primitive savages living in small communities. Watch this DVD to see just how civilized the people who inhabited the North American continent were before the white settlers arrive.